In the four months since the start of the pandemic--and local stay-at-home directives, our Dev10 Software Developer Training Program has adapted and continues to train Dev10 Associates.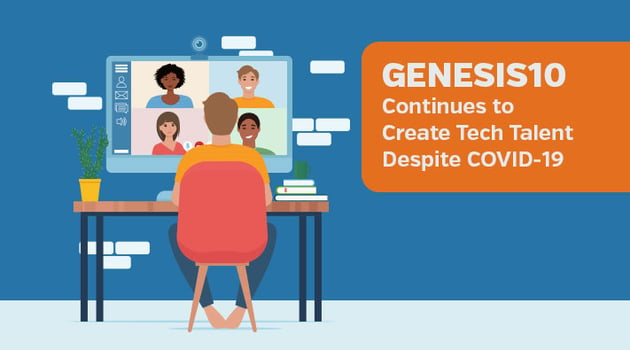 Leveraging technology and adapting our recruiting and training processes has not compromised our high standards. Following federal and state guidelines to ensure the safety of our consultants, Dev10 continues to create talent skilled in the technologies our clients need most.
Adjusting Processes, Yet Standards Remain
Our Dev10 recruiting team has always used a rigorous selection process to evaluate each candidate. Of those who apply, just 5% make the cut. That has not changed. We transitioned to a fully virtual vetting process, preserving our rigorous approach to ensure we were consistent in our selection of candidates who have the aptitude and passion to learn coding,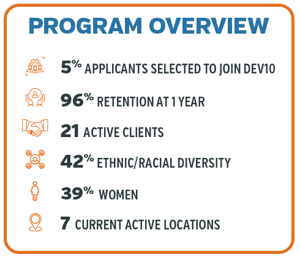 Selected candidates become Dev10 Associates and begin three months of immersive technology training. Historically, our training was conducted in an onsite classroom setting to encourage collaboration and soft skills development. With Covid-19, we transitioned to an online classroom. (We will transition back onsite once all state and federal regulations are lifted.) While virtual, training remains successful and continues to stay collaborative.
The move to a remote model has also presented unique opportunities. In the past the Dev10 Associates final Capstone projects were presented at a live event. For the latest graduates we leveraged video conferencing tools. Because the event was online, more than 100 IT Executives at some of the nation's leading companies were able to attend. This was an awesome opportunity for a larger audience to experience and interact with our Dev10 Associates.
There are other upsides to transitioning to a virtual model. Learning and collaborating remotely helps prepare our Dev10 Associates to work from home in a client's environment, leaving them feeling better equipped to perform on the job starting on day one. But we are not leaving them alone, as has been the case since the beginning, we will provide ongoing mentoring and performance management for two years. Of course, for now, to keep everyone safe, we will be doing this while maintaining social distancing.