As we celebrate the life of Supreme Court Justice Ruth Bader Ginsburg and all that she has done to further gender equality in the U.S., we are reminded about the role of women in technology—why the industry needs skilled women tech pros now more than ever, what women bring to tech jobs, and what we can to do to help increase their numbers.
Let's take this opportunity to look at each of these issues:
Why the industry needs more women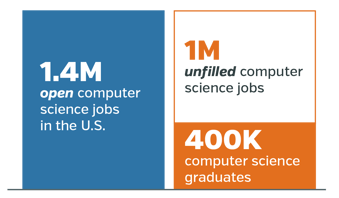 While there are an estimated 1.4 million computer science jobs now open in the U.S., there are only about 400,000 potential computer science grads. That leaves roughly 1 million jobs unfilled.
Women Who Code says this bottleneck of talent will stagnate the tech industry, an effect that has potential to reach even further as tech pervades every sector. Exacerbating the issue, McKinsey forecasts U.S. tech job growth at 34% through 2030. That's a lot of unfilled roles.
Currently, women, who make up roughly 50% of all employed adults in the U.S., hold only about 25% of computing roles, says the National Center for Women & Information Technology. This number, which peaked in 1991 at 36%, could shrink even further, to 22% within 10 years unless the tech industry makes fundamental changes to attract and retain more women, according to research from Accenture and Girls Who Code.
Yet young women are dropping out of computer science and STEM-related areas of study (Science, Technology, Engineering, Mathematics). In 1985, 37% of all computer- and information-science graduates were women, but by 2008 that number had dropped to just 18%, a ratio that remains unchanged.
Waning interest in computer science takes root when girls are young. In middle school, 74% of girls express interest in STEM classes, but when choosing a college major, only four percent of high-school girls select computer science, according to Girls Who Code. These girls need role models and mentors. Getting more girls interested in STEM could go a long way toward solving the lack of gender diversity in tech jobs and address some of the needs forecasted for 2030 and beyond.
What women bring to the IT profession
Aside from helping to shore up the nation's tech talent gap, diverse teams perform better. Individuals from different genders, races, backgrounds and experiences bring different perspectives that can lead to innovative solutions. Other compelling reasons for increasing the number of women in tech include:

Diversity Generates More Revenue. Compared to their peers, high-gender-diversity companies deliver slightly better returns, and they have outperformed, on average, less diverse companies. Companies that not only hire but also manage to retain more women, putting themselves in a more competitive position.

Women Think Differently. By nature, interacting with a diverse team forces individuals to prepare better and anticipate alternative viewpoints. The presence of women makes individuals anticipate differences in opinion and perspective and makes them assume that they will need to work harder to come to a consensus. This enables better problem-solving, which can boost business unit performance.

We Need More Role Models. By celebrating female tech leaders, it encourages more girls to pursue careers in tech, thus increasing the hiring pool diversity. We need to ensure young girls have strong role models of other successful women in STEM and that women have a seat at the table so that they can engage men on the topic of gender equality.
How can we help increase their numbers
Giving girls role models teaches them the skills they will need, encourages them, and shows them that tech careers will help change the world for the better.
"There are very few role models in the workplace," said Stela Lupushor, Founder and CEO at Reframe.Work Inc., a consulting firm that advises organizations on workplace inclusion. "Women need to see a pathway for their progression, they need to have a community they can turn to for advice and support, and they need to rely on inspirational stories when the going gets tough."
Preventing or limiting women from participating or staying in tech roles for the long haul are deficiencies in hiring, retention and pay practices; career pathing; investments in development and upskilling; and flexibility of jobs or schedules. All of these tech leaders can work together to resolve.
For instance, having women in senior leadership roles can positively impact female employee engagement and retention. The percentage of women in senior leadership positions grew from 21% to 24% between 2018 and 2019, according to IDC. In organizations where 50% or more senior leadership positions are held by women, they're more likely to offer equal pay and female employees are more likely to stay with the company longer than a year, report higher job satisfaction and feel the company is trustworthy.
Another option is to create a mentorship program for women in technology at your organization if you don't already have one. ISACA finds that 48% of women in tech feel that lack of female mentors is one of the biggest barriers in their workplace. A mentor can provide information and knowledge, stimulate personal and professional growth, offer reassurance and guidance, act as a confidant, and more. Having an active mentorship program is good for the company too.

For our part, our Dev10 Software Developer Training Program is creating a tech talent pool that is well represented by women (39%). Two reasons we created Dev10 was to: 1) increase diversity in technology and 2) address the tech talent shortage. Dev10 does this by looking beyond candidates who have computer science degrees to recruit recent graduates who have degrees in STEM (Science, Technology, Engineering, Mathematics) fields and some coding experience. Typically, computer science grads tend to be male (88%). STEM grads tend to be more diverse—about 36% are women.