You've got an advanced degree in computer science and work experience in the healthcare industry. Would you consider a career as a technology consultant?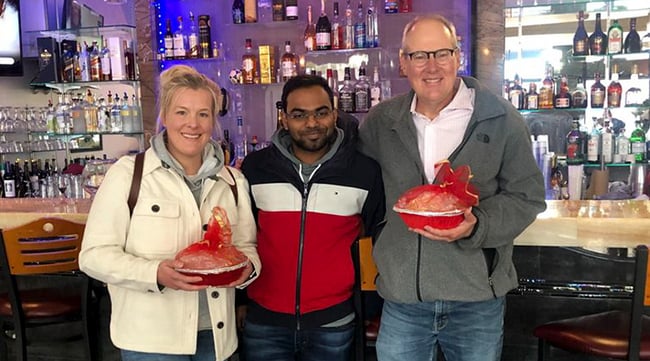 Meeting with Kelly Mueller Weber (left) and Joe Jens (right) of Genesis10's Milwaukee team is Ravi Redlam (center), a Genesis10 Consultant. The Milwaukee team helped Ravi launch his tech consulting career.
Choosing a career in tech consulting can be an excellent career choice that comes with many benefits. A recent article on the career site Indeed has pulled together a list of some of the reasons why tech consulting may be for you:
Advancement
Working as a consultant may provide you with more opportunities than working for a company directly. As a consultant, prospective clients may evaluate you by the results you delivered to previous clients. Creating a proven history of impressive performances may make you an appealing option when applying for an advanced position. This can create an opportunity to progress to larger clients at a quicker rate than is often possible through internal promotion.
Career choice
Because most consulting work is contractual, a full-time consultant has significant control over the type of work they take on. By tailoring the companies you offer your services to, you can choose the projects you're interested in completing. This could help you follow your ideal career path.
Variety
Consulting work is appealing to professionals who prefer variety in their daily tasks. Some consultants work with companies in different industries, providing variety from one contract to the next. Even if you prefer to work as a consultant within a single industry that you specialize in, the needs and abilities of one client are likely to differ from the next, meaning the daily tasks required to improve their performances can be very different.
Of course, there are many more reasons and the article addresses some of the "cons" as well. But you don't have to sort these out by yourself. Work with an experienced recruiter! They will help you figure it out, and find a job you love.
Such is the case for Ravi Redlam, a Genesis10 consultant.
Ravi, 26, was working towards his Master's degree in computer science at the University of Wisconsin-Milwaukee, when a Genesis10 recruiter contacted him about a tech consulting role.
While that initial opportunity fell through, another became available at a global healthcare technology company in Milwaukee. Here Ravi could use his skills in Java and C++ as a software developer. He got the job.
But Ravi's experience working with a Genesis10 recruiter didn't stop there. As we like to say, it's all about people at Genesis10.
In the year he has worked as a Genesis10 consultant, the Milwaukee team has become like family to Ravi, who immigrated from India to continue his education in the U.S. "They know my whole story," he says. Ravi regularly meets Joe Jens, Senior Vice President and lead of Genesis10's Milwaukee team, and Kelly Mueller Weber, Senior Business Development Executive, for lunch. In gratitude for all they've done to help him launch his career as a tech consultant he's invited the two to his wedding.
"Genesis10 was the bridge that made my dream come true," he said, adding that he is connecting his new wife to his recruiting team as well in hopes that she become a tech consultant too.
Kelly says stories such as Ravi's is why she loves her job at Genesis10. "Making people's dreams come true is my passion."
Genesis10 is recognized by the Milwaukee Journal Sentinel as a Top Workplace in Southeastern Wisconsin and by the Milwaukee Business Journal as a top Milwaukee-Area Temporary Staffing Services Firm.
Regardless of where you are in your professional career, Genesis10 will provide you with guidance, support, and the resources necessary to find your ideal position.