"A key ingredient in the recipe for a successful cloud migration project is the ability to know where you are and where you are going," said Jon Vigier, Executive Principal – Strategic Programs at Genesis10. "This does not happen without a certain amount of planning."

Vigier was sharing stories of successful cloud migration projects as one of three expert panelists who participated in a recent Genesis10 ERP Practice webinar, "Setting Up Your Cloud Migration Project for Success." The other two experts on the panel were:
I had the pleasure of moderating this insightful and lively discussion. We opened with a look at some reasons why projects fail. Among them are:
Inaccurate requirements

Leadership not committed to the project

Insufficient team resources

Lack of training and support

Insufficient data cleansing

Inability to make timely and quality decisions
A common thread running through these reasons is a lack of planning.
Self-Assessment Strengthens Planning
A cloud migration project strategy needs to be built on what you know and, as they say, you don't know what you don't know. "A lack of understanding can hinder your ability to set up an efficient, effective, within-budget project," Ivanka Menken of The Art of Service said, describing how a self-assessment can strengthen the planning part of a project.
A lack of understanding also hinders your ability to predict project outcomes. "Making assumptions can damage your results," Menken said. "You could end up spending money and resources on something you didn't even need in the first place."
The Art of Service has created a self assessment for cloud migration. Out of 800-1000 possible self-assessment questions, users select the questions for their project and the outcome they want to achieve, with the overarching question: In my belief, the answer to the following question is clearly defined. One question may be, for instance, "Do you have a clearly defined answer to the question, 'How to calculate the true cost of cloud migration?'" Answering the question honestly and ranking the answer, from 1 to 5, with 1 being totally agree to 5 being totally disagree, will help users to understand the gaps in their process and the resources in the organization.
How do you do a self-assessment? You can engage a trusted advisor like Genesis10's ERP Practice or do the assessment yourself. Equally as important to doing an assessment is analyzing the data collected. The Art of Service also is able to assist with this. During our webinar, Gerard Blokdyk demonstrated how that works, using a knowledge graph he initially created earlier in his career as a CIO and has since evolved.
Real-World Success Story

From our own Jon Vigier, we learned about a U.S. government organization facing a "perfect storm." During the pandemic, one of the client's first-line phone numbers saw a three-fold increase in business. To alleviate the strain that put on resources, the client decided to go ahead with a plan to replace the first-line phone number with a chat bot that directs customers to the information they seek. A quick and easy way to do this, Vigier said, is to migrate the project to the cloud.

Unfortunately, because the client wanted so badly to deliver quickly, they rushed the project. Cutting corners set the project back. The client also had made assumptions, about staff capability to meet new demands. Until this point, Genesis10 had been engaged as a consultant, primarily to provide staff augmentation. Once the project got increased visibility through press conferences, we proposed conducting a Project Management Review.

As a result, Genesis10 redefined responsibilities, created an updated plan and defined stricter communication and reporting protocols. We developed a matrix for staffing, from need to training and identified how to shore up the right capability and implement training. We created a project management reporting dashboard. Ultimately, the project was a success with Genesis10 not only retaining our partnership, but also growing it considerably.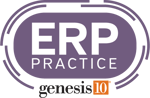 No matter the size or scope of your cloud migration project, Genesis10's ERP Practice can be your trusted partner. Vendor and industry agnostic, we work on projects throughout the U.S. We specialize in ERP evaluations, migrations, implementations, enhancements, and support, with an application focus in Financials, Human Capital Management, Manufacturing, Supply Chain Management, and Security.
Upcoming webinars will look at ERP cloud migrations for Oracle and SAP.