A recent CBRE Study: The Future of the Office – 2020 Global Occupier Sentiment Survey looked at how COVID-19 will change the location, design and use of office space, highlighting evolving workplace trends and how the sentiment towards the office environment is changing over time.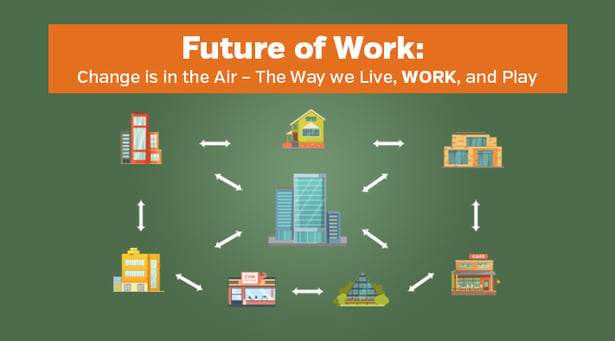 Key Findings from the study include:
Work location flexibility is expected to continue
In a recent blog, Future of Work: Embracing the Hybrid Work Reality, we shared insights gained from engaging with analysts from both Everest Group and Gartner who also echo this workplace trend, indicating that employees will be seeking greater flexibility and options to work from home in some capacity – perhaps two days a week, for example--moving us into some sort of hybrid model with employees both working in the office and working remote.
Physical office will remain important
Harley Lippman, CEO and Founder of Genesis10 phrased it well in a recent interview with Newsmax when he said, "The office is not dead".
Even though we expect additional work location flexibility, the physical office will continue to play a vital role in the day to day operations and interactions for a company, primarily for social engagement, coaching/mentoring, collaboration and innovation design sessions. Approximately 40% of the respondents to CBRE's study support the assertion of the role that the physical office will play in the future.
Real estate portfolios pursuing adjustments
Next to labor, real estate is typically one of the top three expenses a company has on its income statement. Economic uncertainty coupled with adoption of some sort of hybrid work model will be the catalyst for companies to optimize their corporate real estate portfolio. According to the study, "more than 85% are optimizing their portfolios and more than 75% have expansion plans on hold or canceled".
In lieu of canceling expansion plans, some of our clients are tapping us to get the best of both worlds – real estate flexibility without the risk and an increase in talent reach by leveraging our seven delivery centers across the United States. Instead of technology projects delivered from within the clients four walls, they are supported at a Genesis10 operated delivery center.
Underscoring the trend to leverage partners and create flexibility, is the role of flexible office space like a We Works or Industrious as well as Client or Partner-operated suburban satellite offices to bring the office closer to home.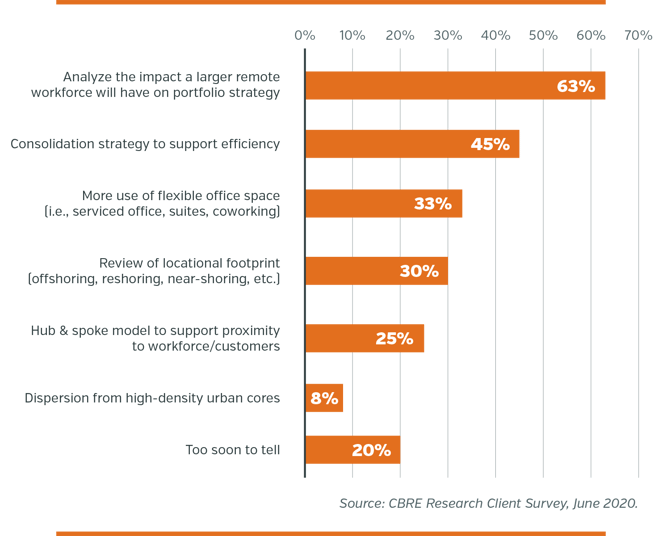 As companies evaluate their real estate strategy, three considerations will come into play:

Concentration risk
In providing advisory services to our clients, often we find that they have concentration risk across their service delivery model from either a function or location perspective.
In the post-COVID-19 world, concentration risk is a focal point because it can create the proverbial single point of failure from a business continuity and enterprise resilience perspective. Some are refining their hub-and-spoke model to include primary core or hub locations in major cities such as Dallas or New York as well as incorporating spoke or satellite locations that could be in, for example, the Midwest, or smaller satellite offices closer to where the workforce lives to create an attractive and flexible option.

Talent acquisition and employee engagement
The tech talent market continues to be very tight for key skills across the United States. In today's environment, to attract and retain top caliber talent, flexibility will be key. The Head of Talent Acquisition, VP at Genesis10, Mark Simone, faces this issue on a daily basis. Simone shared that, "Those that offered greater level of flexibility in a hybrid work model pre-COVID were ahead of the curve to combat the war for talent. He anticipates that there will still be offices but with an overall smaller footprint and greater use of technology to continue to effectively operate in a remote model. Simone agrees that the role of the workplace will fundamentally evolve, placing greater emphasis on training and indoctrination of new employees as well as whiteboarding and design sessions.

Corporate culture impact
The concept of working remote or having teams work in a geographically dispersed delivery model is not new by any stretch. What potentially is different is the percentage of the workforce working remote as well as if and how the hybrid workplace model is adopted.
According to a recent Gartner report, Reevaluating Culture Strategies for Remote Work, most organizations' executive teams (68%) and HR teams (66%) are re-evaluating organizational culture to reflect their new work environment. To a far lesser extent, organizations are leveraging focused groups (17%) or employee surveys (43%) as input into the way ahead. HR Leaders anticipate that the greatest cultural management challenge will be managing change associated with a new culture (e.g., translating the culture to a remote work context, communicating expected behaviors) followed by holding leaders accountable for leading with the cultural values.
Five questions to consider as we chart the path forward:

How is working in a remote capacity affecting informal conversations and the ability of a Manager or Executive to maintain a pulse on the organization?

Is remote work right for every function? Skill set? Level within the organization?

How will productivity be affected?

Are there criteria that should be leveraged to determine work-remote readiness (e.g., tenure with the company)?

How will trust and business agility be instilled with new employees?
The future of work continues to evolve. Based on the industry, the size of the company, the maturity of the company's infrastructure and people management rigor will determine if and how the hybrid work model will be adopted. The one thing we know for certain is change is in the air – the way we work, live and play.