Wayne Sueltz, Managing Director at Genesis10 in Dallas, is profiled in The Colony Courier-Leader, a community newspaper and website that serves suburban North Texas. He is one of the founding partners of Genesis10.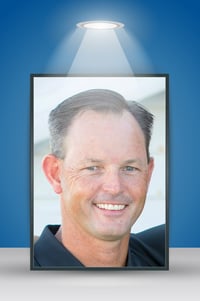 In the profile, Sueltz shares his story—how he has come to be where he is today, offering insight into his career, his work with a local charity and his family life.
Born in the suburbs of Johannesburg, South Africa, Sueltz always knew he wanted to be in a human services related field. He earned a degree in Organizational Psychology and, in 1996, he and his wife made their way to the U.S. where he began to work for a business and technology consulting firm.
"Being a part of creating and building a great company (Genesis10) that impacts lives every day" is one of his proudest accomplishments, along with serving his country "and being part of transitional change."
Impact on Lives
Asked how Covid-19 has affected the staffing industry, Sueltz responded:
"Learning how to manage remote teams, leveraging technology to support collaboration and finding ways to support each other through the crisis become keys to not just surviving but thriving through crisis. Creating stability in uncertainty allowed us to continue to support our client community in meaningful ways. Today we have embraced all we have learned and will emerge from the pandemic stronger."
Sueltz is grateful for his education and believes that the strength of communities is directly tied to the strength of its schools. "The more we all invest in the well being of our schools and educators, that much brighter our future becomes," he said. Serving on the LISD (Lewisville Independent School District) Business Advisory Committee, TCHS (The Colony High School) Building Leadership Team, LISD Budget Advisory Committee and INCUBATOR, Sueltz added, "I see the passion our campus leaders have for impacting young lives, I see a future generation that is intelligent and hungry to make a difference."
And what does Sueltz wish his legacy to be?
"He showed up, tried and left more than he took."
Earlier this year, the Dallas Business Journal named Genesis10 to its North Texas Staffing Agencies list for 2021, and in 2020, the Dallas Morning News named Genesis10 a Top Workplace in the Dallas/Fort Worth metro area.
---
Headquartered in New York, Genesis10 is a professional technology services firm providing staffing, workforce optimization and domestic outsourcing solutions. The company was founded in 1999 by CEO Harley Lippman and is dedicated to providing talent and talent services in support of its clients' growth and business-as-usual initiatives in a cost-effective onsite or onshore model. Genesis10 has more than 150 clients ranging from Fortune 100 to mid-cap companies.