Genesis10, a professional technology services firm providing staffing, workforce optimization and domestic outsourcing solutions, is opening a Delivery Center in Charlotte, North Carolina, in June 2017.
The new location, the firm's sixth in the U.S., addresses growing client demand for onshore talent and delivery capabilities.
The Genesis10 Delivery Center is centrally located in the heart of Uptown, at 212 S. Tryon St., Suite 650, Charlotte, NC 28281. Uptown is "the place to do business," in Charlotte, according to Charlotte magazine.
Complementing the staffing and recruiting services currently provided by Genesis10 through its Charlotte office, the Delivery Center expands the firm's presence in the region to further tap into its high-caliber business and technology workforce.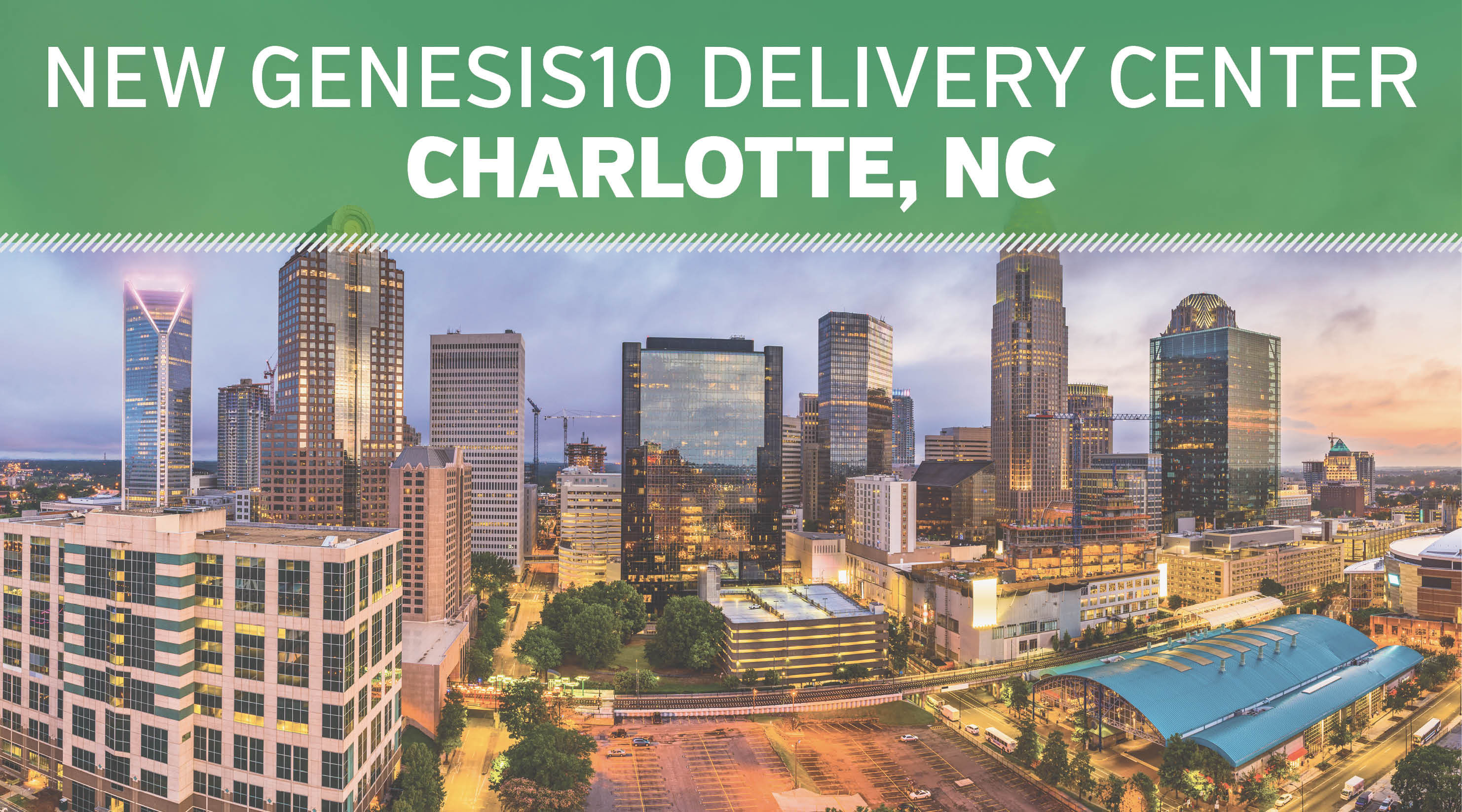 Everest Group has recognized Genesis10 as a domestic pure play with a footprint that combines scale, skillsets, cost and client proximity. Genesis10 is able to create access to talent in Charlotte to help clients scale their technology delivery capabilities and capacity, while mitigating business and operational risk. Instead of its consultants working onsite at client locations, Genesis10 provides its services from one of six delivery centers. In addition to Charlotte, the firm also operates Delivery Centers in Atlanta, Dallas, Detroit, Kansas City Metro, and Orlando. Genesis10 opened its first Delivery Center in the Kansas City Metro Area in 2009.
Eager to support the growth in the local economy, Genesis10 expects more than 50 consultants initially to work in the Delivery Center, with this figure more than doubling as the firm expands to meet clients' growing needs. "Genesis10 is excited to expand our presence and capabilities in Uptown Charlotte to support the growing needs of our clients and the growth in the local economy, while continuing our commitment to retain IT jobs here in the U.S.," said Ami Sarnowski, Chief Innovation Officer and Domestic Outsourcing Service Line Leader at Genesis10.
"While clients have long viewed domestic outsourcing as a key aspect of their talent strategy which results in cost savings while improving delivery quality and consistency, they are also now taking a closer look at their appetite for reputational risk in the current political climate," Sarnowski continued. "Today's pursuit for talent is as competitive as ever, led by a growing skills shortage. Our clients continue to challenge how and where work is performed, taking a new look at work efforts that can and should be performed in the U.S., closer to their business partners versus overseas."
The company will hire project managers, business analysts, software engineers, data management experts and other technology roles for its new Uptown location.
"We are excited to expand our delivery capabilities in Charlotte to support our clients as well as increase the number of employment opportunities for our consultants," said Janet-Lee Hatt, Managing Director of the Genesis10 office in Charlotte, of the new Delivery Center. "Uptown is a great place to work, with a good quality of life. The Delivery Center is at the heart of it all." To meet the growing demand of clients in this region, Genesis10 office recently relocated its sales and recruiting office to 227 W. 4th St., Suite 222, Charlotte, NC 28202.