Staffing Industry Analysts has named Genesis10 one of the Largest Staffing Firms in the United States.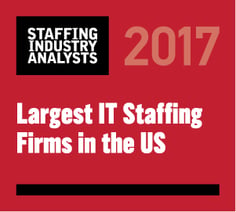 Genesis10 is a professional technology services firm that provides staffing, workforce optimization and domestic outsourcing solutions onsite, onshore or in a hybrid delivery model.
"Genesis10 is honored to be recognized as one of the Largest Staffing Firms in the U.S., said Harley Lippman, Founder and CEO of Genesis10 in New York. "Genesis10 has been providing IT staffing services since 1999 and has evolved since then to meet the needs of our clients by listening to our clients and our relentless focus on talent quality and fit."
Ranked by revenue, the SIA report covers firms that generated at least $100 million in U.S. staffing revenue in 2016, and features 144 companies. The report defines "staffing revenue" as revenue related to temporary staffing, direct hire/permanent placement, retained search and temp-to-hire conversion fees. Industrial and IT skill segments were the largest temporary staffing skill segments by revenue for 45 and 43 companies respectively this year.
"This report showcases those companies that have grown their business to the top of the industry in terms of revenue and growth," said Barry Asin, President of the SIA. "Their success illustrates the continued growth and adoption of staffing in the U.S."
The report is SIA's 22nd annual look at the largest U.S. staffing firms. SIA is a global advisor on staffing and workforce solutions. Genesis10 is a SIA member.