If you are a U.S. Military Veteran who is ready to tackle business and IT challenges, you've come to the right place! At Genesis10, we know that U.S. Military experience is valuable in the corporate world, and we are dedicated to helping you make the transition from deployed to employed.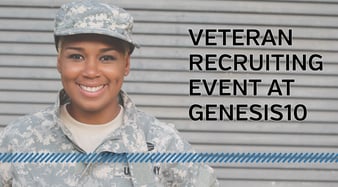 This unique event offers face to face interviews with Genesis10 Recruiters. Genesis10 works closely with our Veterans to take your Military experience, help you translate it to corporate relevant experience and identify a career path that is specific for you. Our aim is focused on aligning our Veterans to our client opportunities with career coaching, professional development, and career path alignment.
GENESIS10 IS HIRING U.S. VETERANS – ALL MOS'S SHOULD APPLY!
U.S. Military veterans are wanted to fill Project Manager (Infrastructure and Application Development), Business Analyst, Testing Analyst, Storage Administrators, Database Administrators, Network Engineers, Midrange Specialists (AIX, RedHat, Solaris), and Problem and Incident Management positions.
CAREER OPPORTUNITY:
Gain cross-functional experience applying industry recognized tools, methods and processes
Apply your military discipline to how project support services are delivered whether it is to manage a project on time and within budget or it is to leverage your communication and analytical skills to facilitate a root cause analysis and solution design
Establish a professional support network to collaborate, coach and professionally evolve
Be Engaged … Be Effectively Utilized …. Deliver value to the client, while fulfilling your potential


REQUIREMENTS:
Minimum of 2 -5 years of managing projects in the U.S. Military
Bachelor's degree or equivalent military experience
Proficiency in PowerPoint, Visio, Excel and Outlook
Ability to work in a geographically dispersed, complex matrix organization
Effective communication skills (oral and written) and ability to facilitate decision making
Proven expertise in managing projects through the use of tools and templates for resource planning, risk I issue management, financials, implementation and scope
EVENT LOGISTICS:
DATES: June 3-5, 2014

TIME: 2 to 7 p.m. each day

LOCATION:

Genesis10 Kansas City Delivery Center
8330 Ward Parkway
Kansas City, MO 64114