The workplace of the future will possess a new face, a fresh look and a new generation of leadership. Filled with growing numbers of millennials and members of Generation Z, tomorrow's workplace will be modernized and infused with flexibility to meet the needs and mirror the values of top talent. Read on for the top 10 workplace trends to watch out for in 2017.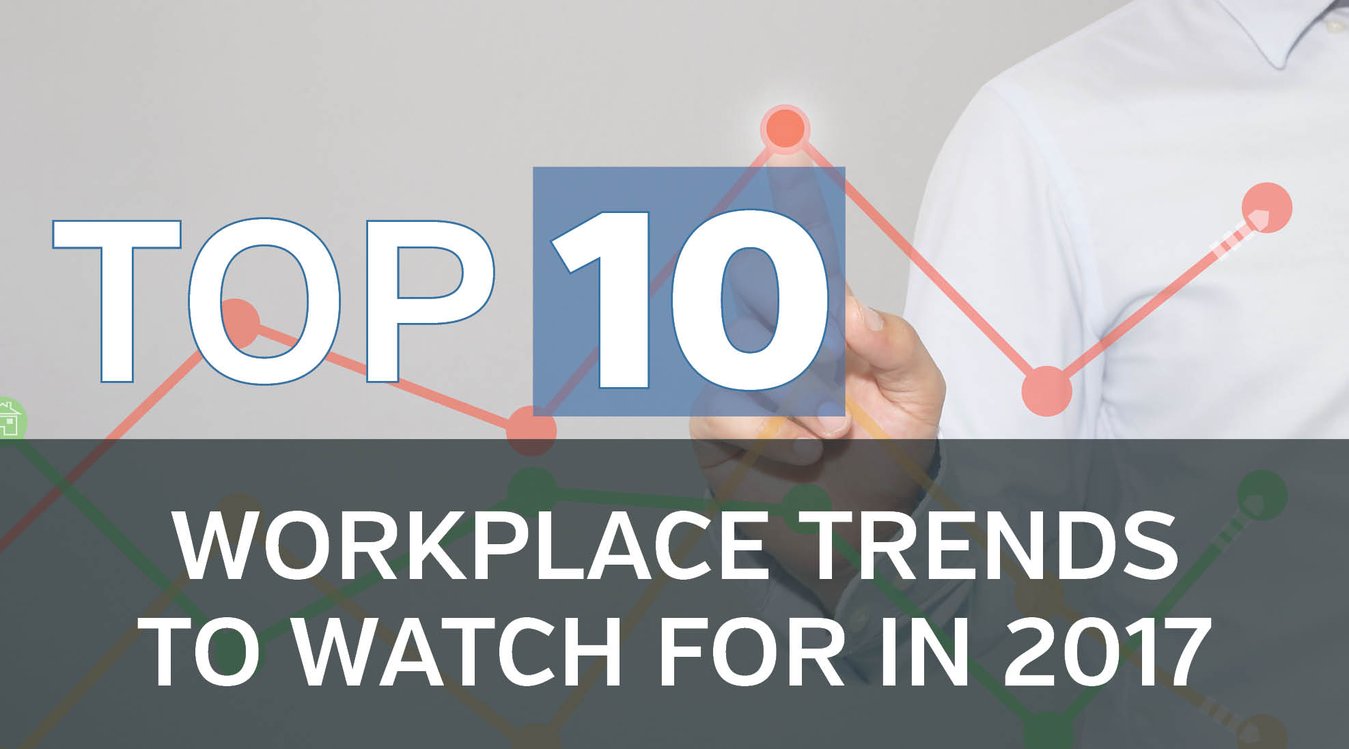 1. The freelance marketplace will undergo a major expansion.
The increased access to mobile technology combined with an increased desire for flexibility will enhance the popularity of part-time and freelance jobs. This trend will permit companies to control labor costs by hiring more employees on a part-time or as needed basis.
2. Companies will rehire former employees at an increasing rate.
As young professionals jump from job to job with growing frequency, employers will see the benefits of rehiring former employees who already possess familiarity with workplace goals and policies. This trend allows employers to save money on training and virtually eliminates the "ramp up" period typically required for most employees to understand how to perform their job duties.
3. Millennials will begin to occupy the next generation of leadership.
As millions of baby boomers retire, millennials will be propelled into leadership roles and will soon occupy roughly one-fourth of all management level positions. Employees of all ages will need to adjust to the more flexible work style of the millennial generation.
4. Wearable technology will continue to increase in popularity.
Wearable mood-sensing devices and other mental health monitors will join Fitbits and Apple watches as commonplace among employees.
5. Office environments will be transformed to meet the specific needs of employees.
The open office environments that used to dominate many companies will begin to be replaced by more modular work spaces that minimize distractions and afford increased comfort to employees. Additionally, an increasing number of employees will work from their homes or remote office locations.
6. Insurance premiums will rise sharply.
As healthcare coverage costs rise for businesses, some employers will respond to the crunch by laying off employees and hiring more part-time workers. This trend will result in greater pressure on the remaining full-time employees to produce results and train unseasoned staff.
7. Automation will increase across all industries.
Tasks that were historically undertaken by people will increasingly be performed by machines and robots. Automation will rise across all industries, from supply chain operations to health care. As human labor is replaced by sophisticated software systems and computer programs, the number of skilled and manual laborers in America will continue to decline.
8. Maternity and paternity benefits will be enhanced.
With nearly two-thirds of employees indicating that they would like to have unlimited maternity benefits, employers will respond with expanded maternity leave programs. Among the potential benefits is a more gradual return to the workforce characterized by shorter workdays or workweeks in the first year following pregnancy. Paternity benefits will also be expanded.
9. Modernization of the workplace will become a key priority for employers.
In an effort to lure top talent and maintain a competitive edge, business owners will be more apt to invest in the latest technology for their employees.
10. The technologically savvy Generation Z will enter the workforce.
As the members of Generation Z begin to infiltrate the job market, the face and values of the workforce will begin to gradually evolve. With their desire for flexibility and work-life balance, the members of Generation Z will seek companies with a culture that reflects their values. As a result, companies will begin to respond to these demands by increasing their flexibility and employee retention efforts.
Please contact us if you would like to learn more about upcoming trends that will impact the workforce in 2017. We look forward to hearing from you.