We are living in unprecedented times. Everyone is trying to do their part to slow down the spread of the Coronavirus. Health and safety are at the forefront of everyone's minds, as is adjusting to the new norm – work from home and social distancing. While everyone at Genesis10 is doing their part, we are also focused on supporting our clients, consultants, colleagues and families in these new times. Many of us now are spending our days working from home, in most cases, with our children in tow.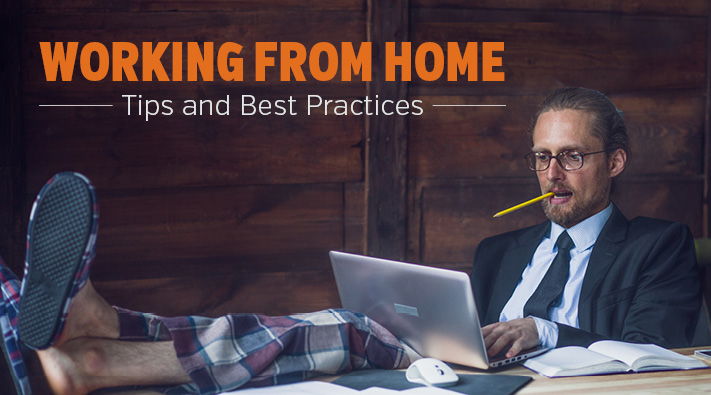 We all are making adjustments to this new normal. One adjustment may be becoming accustomed to working remotely for the first time. Having worked remote for more than 20 years, I'd like to share some of my learned best practices on how to be most effective when working from home. In a nutshell, it's all about communication, setting boundaries (for yourself and others) and creating healthy habits.
Communication
Increasing your communications with managers and colleagues is key to making the adjustment to working remotely. We don't realize how much communication happens naturally as we pass by coworkers or lean around a cubicle. I suggest making use of the breadth of tools and media available for communication.
Be visible. Remember the old adage—out of sight out of mind? To not feel forgotten, touch base with your manager and teammates throughout the day.
Provide daily updates to your manager and team. We no longer can see each other or have the quick hallway/passing updates we are accustomed to. Replace this with a daily email communication to your manager sharing "This is what I did yesterday; this is where I will be focusing my attention today."
Reply quickly to questions and requests – most notably, be visible through instant messaging tools such as Skype or Teams, Slack, Google Hangouts, or texting.
Regularly ask your manager and colleagues "Are you getting what you need from me?"
Share with your manager when you are ready to take on additional work.
Celebrate and share your wins; celebrate and share others' successes.
Instant messaging. Think of instant messaging as filling in for the important daily routine of peeking your head into someone's cube to get a quick question answered. If you haven't used it or set it up, don't worry - just reach out to your organization's IT team and they will help you.
Video communication. Any time you would meet with your team in person, be brave and use video! Yes, I know you may initially feel uncomfortable with video calls, but it may be time to get used to it. When you meet with your team via video, be prepared both mentally and technically. Common video communication tools include: Skype for Business, Zoom, Webex, GoToMeeting, Microsoft Teams, and Google Hangouts. If your company doesn't use one of these tools, just use your cell phone with FaceTime, Google Hangouts, Google Duo, or Skype which are all free apps.
Collaboration tools. I am finding myself using collaboration tools more and more these days. These tools are helpful when you need to collaborate on a document or share a screen –virtual whiteboarding at its best. If you are not familiar with what your company offers, then contact your IT team or your manager.
Set Boundaries
It's important that you set boundaries for your family and for yourself as everyone adjusts to you working from home.
Resist the temptation to work in your PJs! Dress in the same way you would if you were going to the office. It will help you have the right mindset to prepare for a successful day.
Set boundaries with your family or roommates. Normally, when you are at home with your family, they are used to you being available for family time. It will be an adjustment for them to get used to you being at home and working. This can be especially true for kids. I find it helpful to schedule short breaks with them so they know when I may be available to spend a few minutes with them.
Set boundaries with yourself. Don't think of working from home as the ideal time to reorganize your closet, take care of your laundry, do your taxes, etc. If you don't set boundaries for yourself, you'll find that you will struggle staying focused and won't accomplish the work you set out to do for the day. Conversely, set boundaries with work and manage your work schedule so that you can manage work/life balance.
Be purposeful in your choice of work area. Try to find one that is the most free from distractions and suited for video conference. Look around to make sure that behind you the area is clean and organized.
More than anything, be disciplined. If you find you are struggling, be honest about it and reach out for help from your manager.
Create healthy habits. We all have our workday routines. While you may not be able to replicate exactly the habits you have acquired for navigating through your day at the office, there are ways to create some structure that will help you perform at your best:
Start/end each day with a routine to replace your commute. It is incredibly helpful to allow yourself to ease in and out of work in the same way that a commute does. Go for a walk, work out, or do something that helps you bookend your day so that your mind is prepared to transition to and from your workday.
Schedule breaks. When you take a lunch break, try to eat in a different room to give your mind an opportunity to recharge. Although you need to stay disciplined for work, also schedule break times when you can interact with others in your house or socialize with a coworker via video/phone to avoid loneliness and isolation.
Overall, be positive, create the good around you, and support each other as many adjust to working remote for the first time.
I would encourage you to reach out to your manager or HR team if you need additional help or guidance on becoming productive, focused and effective while working remote.
Related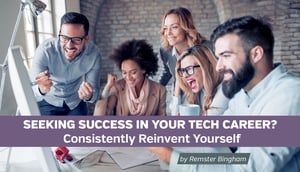 Seeking Success in your Tech Career? Consistently Reinvent Yourself Becoming successful in your career as a technology consultant is not for the faint of heart, but it can be an incredibly rewarding experience and create a much quicker path to career growth Read More.