While the U.S. economy officially entered the longest expansion in its history on July 1, there are signs that growth may be slowing.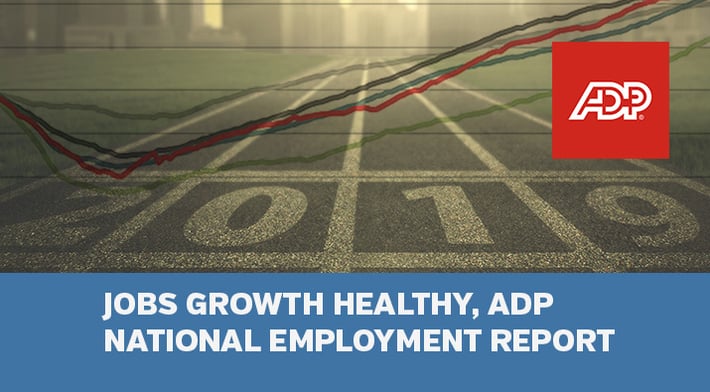 Private sector employment increased by 156,000 jobs from June to July, according to the July ADP National Employment Report. A year ago, the report showed the economy adding 284,000 jobs (July 2018).
"Job growth is healthy, but steadily slowing," said Mark Zandi, Chief Economist of Moody's Analytics. "Small businesses are suffering the brunt of the slowdown. Hampering job growth are labor shortages, layoffs at bricks-and-mortar retailers and fallout from weaker global trade."
The ADP National Employment Report® is published monthly by the ADP Research Institute® in close collaboration with Moody's Analytics and its experienced team of labor market researchers. The ADP National Employment Report provides a monthly snapshot of U.S. Nonfarm Private Employment based on actual transactional payroll data.
The report breaks down Total U.S. Nonfarm Private Employment by Sector and Company Size. All are worth reviewing each month (and tracking in a time series) to get a complete picture of what's happening and how job market conditions are trending in your business sector. Here are the three stats from the most recent report that you need to know:
1. Labor Market Tightens
"While we still see strength in the labor market, it has shown signs of weakening," said Ahu Yildirmaz, Vice President and Co-Head of the ADP Research Institute, about the 156,000 jobs increase in the private sector. "A moderation in growth is expected as the labor market tightens further."
2. Franchises are Hiring
The services sector added 146,000 jobs in July, with growth coming from professional and business (44,000); education and health (37,000) and trade, transportation and utilities services (27,000). Information services was the only sector to show a decline in July, continuing its downward trek by 5,000 jobs.
In the goods-producing sector, construction added 15,000 jobs and manufacturing 1,000 jobs. Natural resources and mining show losses for the month, down 6,000.
Franchise employment grew in July by 41,900 jobs.
3. Costs of War for Talent
Looking at company size, large and mid-size businesses continue to drive the most growth. Businesses with more than 500 employees added 78,000 new positions in July, while mid-size companies with 50-499 workers saw a gain of 67,000. Businesses with 1-49 employees continue to lose ground—11,000 jobs—which is perhaps indicative of smaller firms tending not to fare as well as their bigger competitors in the war for talent.
The matched sample used to develop the ADP National Employment Report was derived from ADP payroll data, which represents 411,000 U.S. clients employing nearly 24 million workers in the U.S. The June total of private-sector jobs added was revised up from 102,000 to 112,000.
While the Federal Reserve says the job market remains strong, policymakers at the central bank are worried about the U.S. and global economies slowing down and the uncertainty caused by the U.S.-China trade war. In July, the Fed announced its first interest-rate cut since 2008.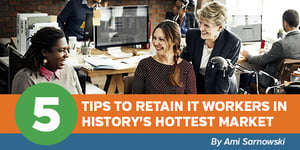 Also read Ami's blog: Five Tips to Retain IT Workers in History's Hottest Market. At 1.3%, the unemployment rate for technology occupations has hit the lowest level in 20 years, according to a CompTIA analysis of recent Labor Department jobs data... Read more
---