If you're active on LinkedIn, then you've probably come across posts shared or written by a connection about a job scam.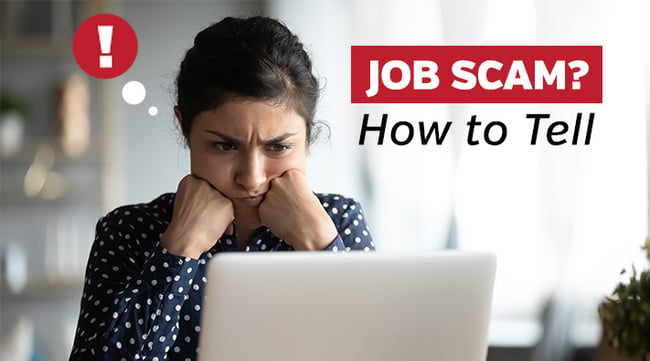 In a job scam, a job candidate is approached by a recruiter who appears to be legitimate, but in reality, is not. The scam uses LinkedIn and other means to fool candidates into applying for roles that don't exist. The role sounds real and the company supposedly doing the hiring may even be real. But the scam, using fake profiles, is just that, a scam.
One tip-off: If a recruiter asks for money in exchange for a job, you need to be cautious. While this isn't as common, there are reputable firms that provide excellent customized services to candidates for a fee. Be sure to do your research before paying any fee.
We all are seeing more instances of job scams as bogus companies take advantage of the move to remote work—it doesn't seem unreasonable to job candidates that recruiting, hiring and onboarding processes are all being conducted online. Scams also take advantage of vulnerable job candidates such as recently laid off workers and new college grads.
In the second quarter of 2022, Americans were scammed out of $86 million due to fake business and job opportunities, according to the Federal Trade Commission.
Key Indicators the Opportunity May Be a Scam
Employment scams can be sophisticated, so it's important to be vigilant as a job seeker. In addition to asks for money, the FBI says these are some warning signs to look out for through the hiring process:
Interviews are not conducted in-person or through a secure video call, but rather on a teleconferencing app using an email address instead of a phone number.


Potential employers contact victims through non-company email domains and teleconference applications.


Potential employers require employees to purchase start-up equipment from the company, pay for background screenings or request credit card information.


Job postings appear on job boards, but not on the company's website. Recruiters or managers don't have profiles on the job board, or the profiles don't seem to fit their roles.


Check for spelling and grammar errors. If a job listing or email from a company is filled with errors, it may be a fake.
What to Do if You Suspect Someone
If a job opportunity seems suspicious, Rhonda Perkins, an attorney and Chief of Staff for the Federal Trade Commission's Division of Marketing Practices, says:
First, search on the name of the company or the person who's contacting you, plus the words "scam," "review" or "complaint." Remember that anyone can create a fake website or profile, so be thorough. Run the company or staffing agency through the Better Business Bureau's directory.
You can also contact the employer directly, using information you've found on your own (as in, not an email or phone number provided to you through an unsolicited message), to verify the legitimacy of the job and how to apply. Our recruiting team suggests using LinkedIn, Glassdoor or other job boards to research the company, recruiter profiles and past and current employees.
Finally, never send money or reveal personal financial information, like a credit card number, during the hiring process. Many clients and MSPs will require a unique identifier for a candidate that may include portions of a social security number, date of birth, etc. However, a request for full information can be a sign of fraud and illegal. Employers will only ask for your Social Security number after you're hired, and you should still be vigilant to confirm their identity in-person or over video before you share it.
And, if you do lose money to a job scam, report it to the FTC at ReportFraud.ftc.gov.
Looking Out for You
To help protect yourself against potential scammers, please note the following recruitment practices used by Genesis10:
Genesis10

screens applicants through a combination of over-the-phone, video and in-person meetings. It's common for a job candidate to connect with more than one recruiter; they will share how and where they found your contact information and specific details on the opportunity.



Genesis10

will never ask a candidate for payment as part of the hiring or onboarding process. Likewise, we will never send checks to applicants to secure a job.


Genesis10 will not request an applicant share sensitive personal information, such as a government identification number, over the phone or by email until a formal written offer letter is signed by the applicant.
Genesis10 receives verification calls weekly to our corporate phone number, marketing contacts, branch managers and company leaders to confirm opportunities and the identity of recruiters and account executives.
Always do your due diligence before applying for a job and if something seems off, trust your instincts and move on to the next opportunity.
And please do not hesitate to contact us if you think that a communication or career opportunity that you have received from Genesis10 may not be legitimate.