As you know, our nation's military Veterans are near and dear to my heart. Each year, as Americans we take November 11 to reflect upon the heroism of the brave men and women who died in our country's service. Initially called Armistice Day to commemorate the anniversary of the signing of the armistice that ended World War I, the holiday was changed in 1954 to Veterans Day to recognize all Veterans in all wars.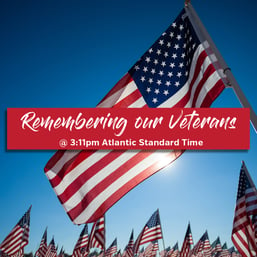 Please join me at 3:11 pm Atlantic standard time in a moment of silence in honor of the service and sacrifice of veterans throughout the history of this nation. As many of you know, I am a history buff so indulge me for a minute. The time 3:11 pm was chosen because in 1918, on the 11th hour of the 11th day of the 11th month, a temporary cessation of hostilities, or armistice, was declared between the Allied nations and Germany in World War I.
Usually I, like many of you, will attend a parade or a ceremony to recognize those that serve but unfortunately this year is like no other. Be safe, pay tribute from afar and raise a flag to salute our veterans!
In Gratitude for Our Nation's Military Veterans,
Harley