Every day, it seems, new startups enter the FinTech marketplace. Some of the more established interlopers – PayPal, Square, Kickstarter, SoFi, Rocket, Venmo and so many others – are expanding their encroachment. And tech behemoths – Apple, Google, and Amazon – are coming for a piece of the banking and financial services business too. If that is not daunting enough, traditional financial services firms are also challenged with:
Moving rapidly to embrace disruption and digital transformation – both to expand services and to attract and retain new generations of talented employees
Determining strategies for adopting, exploiting, and integrating a complex array of fast-moving technologies – Artificial Intelligence (AI), Internet of Things (IoT), Blockchain, among others.
Identifying operational efficiencies, lowering costs, maintaining legacy

environments and operating within a regulatory environment that holds high standards for data security, privacy, compliance, IP protection and risk management.
Meeting and exceeding the expectations of contemporary consumers who now demand exceptional service, seamless experiences and greater value from banking partners.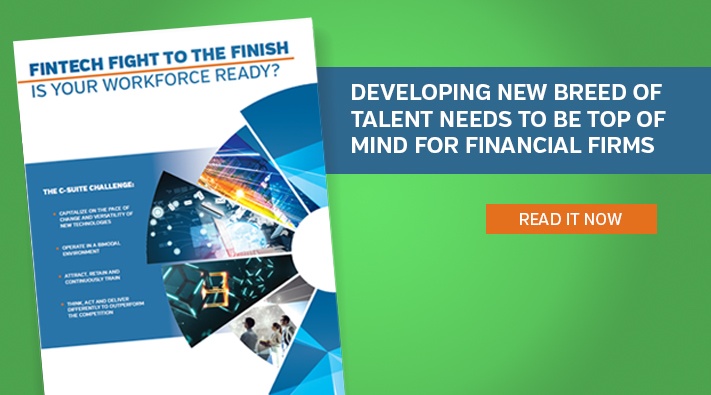 Despite signs of easing of the regulatory landscape for financial services, traditional banking firms are still operating with constraints that have yet to fully catch up with the FinTech start-ups. Market disruption has them distracted and often playing defense, while new market competitors—unencumbered by legacy systems—are on offense. The ability to be nimble is key.
All contemporary FinTech companies need flexible, adaptive, tech-savvy workforces. But competition for talent is intensifying. And there are big gaps. In many emerging technology areas, the talent you need does not even exist yet.
Forward-Focused Talent Strategies
To survive and thrive in this environment of extreme disruption, traditional banks and other financial services firms need tightly coordinated, forward-focused talent strategies tied directly to long-term technology roadmaps. They also need rigorous processes for continually assessing, sourcing, and developing a new hybrid breed of talent. The new breed will combine technology competencies with business acumen, communication, collaboration and creativity, among other capabilities. These assessment processes need to be systematic and well defined, but also flexible enough to adapt as talent-market conditions and technology roadmaps continue to shift rapidly over the foreseeable future.
Banks and other financial services firms are betting big on emerging technologies to stay relevant and to drive revenue growth and operational efficiencies. To learn more, download the Genesis10 whitepaper, FinTech Fight to the Finish—Is Your Workforce Ready, which includes a technology roadmap exercise to help you evaluate how emerging technologies impact your business. (While the whitepaper is written for the banking and financial services sector, the technology roadmap exercise can be used by organizations in a wide range of industries.)
Subscribe to the Genesis10 blog to find out more about workforce and technology-related topics.
Ami Sarnowski contributes regularly to the Genesis10 blog. Read her post, Robot or Mom? What Will the Future Hold with AI?