The past three weeks has heightened the importance of business preparedness and modernizing the IT infrastructure to support a digital environment. We are seeing the global pandemic has caught some off guard and others at different stages of their modernizing their IT infrastructure. The catalyst for change has come, COVID-19. Creating the ability to shift technology capacity and, for that matter, workforce capacity will mitigate the business operational impact of future pandemics that could, like COVID-19, bring the world to a screeching halt.
As we all look to the new norm – a new way of conducting business while working remote and adhering to State-Directed Stay-at-Home Orders – we have to forge ahead and continue with 'business as usual.' Whatever that means….
We have all faced set-backs. Some may not meet their financial goals or production timelines because of the disruption to the supply chain. Others may have a critical ecosystem partner "down" because they have not finished the Virtual Desktop Infrastructure (VDI) project they started a year ago. A low-priority project now becomes critical path. But we can all thank COVID-19 for prioritizing digital transformation initiatives at the top of the list!
We have heard hundreds of stories over the past 2-3 weeks as we work with our clients to shore up these gaps and others. We have all learned from the past few weeks and can forge a new way ahead. Key lessons from speaking with our clients include: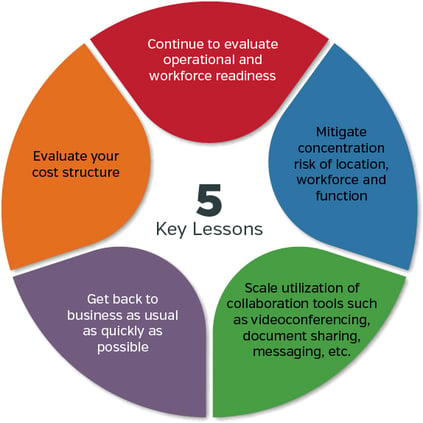 1) Continue to evaluate operational and workforce readiness.
No one could have anticipated a worldwide event like COVID-19 and the wide-reaching impact the pandemic is having on all aspects of business – financial, supply chain, operations and HR.
Immediately our minds shift to technology and greater use of all digital platforms but there is also the people dimension. How will we manage differently? How will we keep employees engaged? Will there be a dip in productivity or performance? How will we communicate to our workforce if there is an emergency and email is down?
From a process perspective, our clients are updating their policies and processes that support onboarding and offboarding of contractors. Some are also looking to their talent partners for additional support or even outsourcing and structuring into a managed service.
As much as we want to put COVID-19 behind us, there are important lessons learned that we need to capture and update the BCP plan. What would we do different?
2) Mitigate concentration risk of location, workforce and function.
Many companies have a global workforce and delivery model. This workforce will include FTEs, offshore resources and contingent workers or contractors. Companies may have a concentration of their workforce in a specific geography, creating concentration risk.
Depending on the country, infrastructure stability could vary which could be the case on any given day. Okay - we are accustomed to a call dropping or intermittent connectivity. The bigger issue is if a country goes on lockdown and the workforce has to work remote. Maybe they have a laptop buy many offshore captives only have a desktop. Now what?
COVID-19 demonstrates the importance of diversification as well as the need to have strategic partnerships in place to provide "turnkey" delivery capability and capacity in a time of need, a partner that knows how to deliver and execute within your business environment as a stop-gap measure.
3) Scale utilization of collaboration tools such as videoconferencing, document sharing, messaging, etc.
Remember to work with IT to ensure additional bandwidth and network capacity is available to support the increased use of these types of tools.
4) Get back to business as usual as quickly as possible.
Business was disrupted, but it is continuing. Projects may get reprioritized, but the reality is the backlog just got bigger. Work still needs to get done.
A key aspect of a global workforce is relying on contractor support to scale project delivery capability and capacity. Start working with your contingent partners to identify the resources that you will need and understand what your partner can do now to onboard the resources to include training and laptop provisioning. Ecosystems are more critical now than ever.
5) Evaluate your cost structure.
Are there opportunities to take cost out? This is a loaded topic and is one that requires a thoughtful analysis. How do we get creative to do more with less?
If you are working through these types of issues, then contact Genesis10 to discuss how we can help you meet your challenges. We have supported Global Fortune 500 clients for more than 12 years from one of our seven domestic innovation hubs and delivery centers. Now we too are remote, but moreover, the structure, systems and processes that we have in place are designed with resiliency and are integrated to enable our clients to gain 'business as usual' support without missing a beat.
---
Related: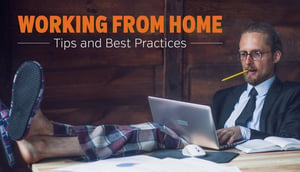 Personal Best Practices to Effectively Work from Home We all are making adjustments to this new normal. One adjustment may be becoming accustomed to working remotely for the first time. Having worked from home for more than 20 years, I'd like to share some of what I've learned...Read more.

---